16 HP Tractor
Blizzard of 1997
Circular and chain saw
Chain Saw in Action
Push cart
Quick Hitches
Quick hitch cart
Snowblower on a 16HP
Two Hitches
Utility Scoop
Vee Plow
Wheelbarrow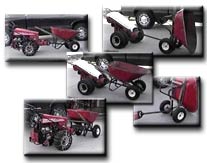 Wide Sod Cutter
---
Wheelbarrow
I bought the frame for a Gravely Push Cart at a swap meet in 2000 and thought I would try hooking it up to a wheelbarrow. To make a long story short, it didn't work very well!

The problem is the center of gravity combined with the swivel point at the axle; It was just too easy to tip it over sideways. The reason that the Gravely Wheelbarrow attachment works is that it has no such swivel.

I have since abandoned using the push cart frame for the wheelbarrow and have moved on to building something more similar to the original Gravely push cart, focusing on a low center of gravity. See my push cart project.