16 HP Tractor
Blizzard of 1997
Circular and chain saw
Chain Saw in Action
Push cart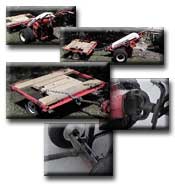 Quick Hitches
Quick hitch cart
Snowblower on a 16HP
Two Hitches
Utility Scoop
Vee Plow
Wheelbarrow
Wide Sod Cutter
---
Pushcart project
My push cart project started in 1999 with the purchase of a Gravely push cart frame for $15.00. Nobody at the Hause Equipment swap meet knew what the frame was except me! I knew that it would not be too much trouble to figure out how to use it.

I first tried using a wheelbarrow with the frame but the center of gravity was too high.

When I found a local landscape contractor who was selling a junk Promaster 50 and some other Gravely stuff, I knew I had some great material to work with for the push cart. I used the frame and the wheels of the Promaster to build a very solid platform.

I still need to add sides and a dumping latch mechanism, but it is getting close.