16 HP Tractor
Blizzard of 1997
Circular and chain saw
Chain Saw in Action
Push cart
Quick Hitches
Quick hitch cart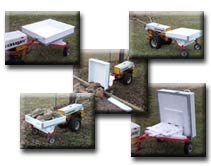 Snowblower on a 16HP
Two Hitches
Utility Scoop
Vee Plow
Wheelbarrow
Wide Sod Cutter
---
Quick hitch cart project
This cart project was built by my brother in Kansas City. He can actually justify having Gravely tractors since he lives on an acre. A very nice second tier lake front acre with lots of big trees and grass.

He started with a quick hitch hanger frame from a 50" walkbehind mower deck that I sold him. I believe I bought it at the Hause Equipment Swap Meet some time ago.

He created a level base for the bed of the cart with some carefully angled wood pieces, lots of heavy plywood and many big bolts.

So far the project has proven to be a complete success. The cart pivots nicely on the quick hitch tapered pin and the wide wheel base of the casters make for a stable load.

He put me to shame on this project completing his in only a couple of months while my push cart project has not evolved a bit!