Page 1
Page 2
Page 3
Page 4
Page 5
Page 6
Page 7
Page 8
Page 9
Page 10
Page 11
Page 12
Page 13
Page 14
Page 15
Page 16
---
---
Text
Garden photo
Peg type harrow
D & plow
Garden
---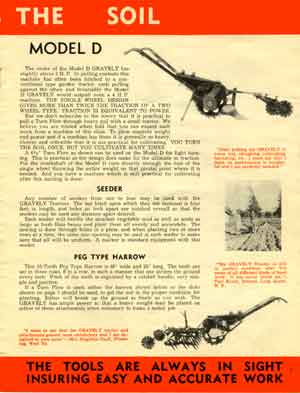 "After putting my GRAVELY to every test, ploughing, cultivating. furrowing, etc., I must say that I think its performance is wonder- ful and I am perfectly satisfied."
"My GRAVELY Tractor is still in perfect condition after five years of all different kinds of hard work. It has never faild yet."- Paul Kranz, Inwood, Long Island, N. Y.
"I want to say that the GRAVELY tractor and attachments proved most satisfactory and I am delighted to own same."—Mrs. Singleton Paull, Wheeling, West Va.