Tubeless Tires Flyer
Sickle Mower Photo
Snowblower Photo
Specifications
---
---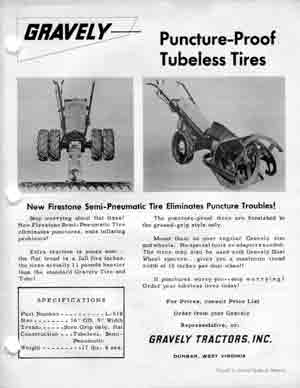 New Firestone Semi-Pneumatic Tire Eliminates Puncture Troubles!

Stop worrying about flat tires! New Firestone Semi-Pneumatic Tire eliminates punctures, ends inflating problems!

Extra traction is yours now. the flat tread is a full five inches, the tires actually 11 pounds heavier than the standard Gravely Tire and Tube!

The puncture-proof tires are furnished in the ground-grip style only.

Mount them on your regular Gravely rim and wheels. No special tools or adapters needed. The tires may also be used with Gravely Dual Wheel spacers. . . gives you a maximum tread width of 10 inches per dual wheel!

If punctures worry you-- stop worrying! Order your tubeless tires today!