Silencer Brochure
Photo
Specifications
---
---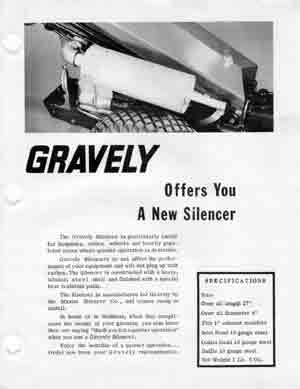 The Gravely Silencer is particularly useful for hospitals, cities, schools and heavily populated areas where quieter operation is desirable.
Gravely Silencers do not affect the performance of your equipment and will not plug up with carbon. The Silencer is constructed with a heavy, tubular, stee1 shell and finished with a special heat resistant paint.
The Silencer is manufactured for Gravely by the Maxim Silencer Co., and comes ready to install.
In home or in business, when they compliment the beauty of your grounds, you also know they are saying "thank you for a quieter operation" when you use a Gravely Silencer.
Enjoy the benefits of a quieter operation... Order now from your Gravely representative.