Photo
Wheels closeup
---
---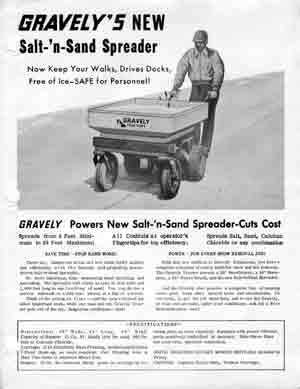 Dimensions: 36" Wide, 48" Long, 35" High Capacity of Hopper: 11 Cu. Ft. Holds 1500 lbs sand, 600 lbs Salt or Calcium Chloride.

Carriage: 3/16 Structural Steel Framing, welded construction 3 Point Hook-up, no tools required. Full Floating Axle & Dual Tire bolts to standard Wheel Hub.

Hopper: 16 Ga. Reinforced Steel nests on carriage by locating pins, no tools required. Equipped with power vibrator, ports positively controlled by operator. Side-throw flaps one each side, operator controlled.

DRIVE: REQUIRES ROTARY MOWER DRIVE (Not included in Price)
CASTERS: Saginaw Heavy-Duty, Timken Bearings.
SAVE TIME - STOP HAND WORK!

Those icy, dangerous areas are now made SAFE quickly and efficiently, with the Gravely self-propelled, power-driven Salt-n-Sand Spreader.

No more laborious, time consuming hand shoveling and spreading. The Spreader will cover an area 25 feet wide and 1,050 feet long in one loading of sand! You can de-ice a narrow sidewalk or a full-size street, at a flip of a lever!

Think of the saving in time ... and the men released for other important work, while one man and one Gravely Tractor gets rid of the icy, dangerous conditions--fast!

POWER - FOR EVERY SNOW REMOVAL JOB!

With this new addition to Gravely Equipment, you have a complete selection of power tools for snow and ice removal. The Gravely Tractor powers a 26" Snowblower, a 48" Snowplow, a 38" Power Brush, and the new Salt-n-Sand Spreader.

And the Gravely also powers a complete line of mowing tools-plus many other special tools and attachments. To cut costs, to get the job done fast, ask to see the Gravely, on your own grounds, under your conditions. Ask for a Free Demonstration--now!