Pump Flyer


Side Photo
Front Photo
Specifications







A pump from the
2001 Mow In

---
---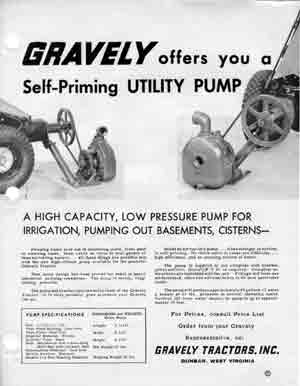 Pumping water in or out of swimming pools, from pond to watering tanks, from creek or river to your garden or lawn sprinkling system... .all these things are possible now with the new high-volume pump available for the powerful Gravely Tractor.

This pump design has been proved for years in heavy industrial pumping operations. The pump is sturdy, long-lasting, powerful.

The pump and bracket attaches to the front of the Gravely Tractor--it is truly portable, goes anywhere your Gravely can go.

Solids do not foul this pump. . . . it has straight-in suction, is self-priming. No check valve to cause you difficulty....high efficiency, and an amazing volume of water.

The pump is supplied to you complete with bracket, pulley and belt. Gravely P.T.O. is required. Complete instructions are furnished with the unit. Fittings and hose are not furnished, since you will want to buy to fit your particular needs.

The pump will produce approximately 40 gallons of water a minute at 23 lbs. pressure at normal operating speed. Vertical lift from water source to pump is up to approximately 15 feet.