Left Photo
Right Photo
---
---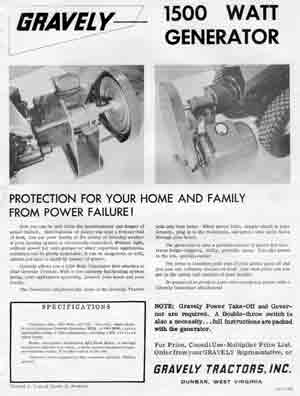 Continuous duty. 1500 Watt, 115 Volt. Two wire, single—phase, 60 cycle (Alternate Current) Generator RPM: at 3600 RPM, carries intermittent rating of 1800 volt amperes, providing a 20% overload safety factor.

Starts: one-quarter Horsepower Split Phase Motor, or one-half horsepower capacitor type motor, or three-quarter Horsepower repulsion-induction motor, if no other load is on the line.

Voltmeter and two-plug heavy duty receptacle included. Pulleys guarded.
Now you can be safe from the inconvenience and danger of power failure. Interruptions of power can lose a freezer-full of food, can put your family at the mercy of freezing weather if your heating system is electrically controlled. Without light, without power for well-pumps or other important appliances, existence can be pretty miserable. It can be dangerous as well, unless you have a stand-by source of power.

Gravely offers you a 1500 Watt Generator that attaches to your Gravely Tractor. With It you can keep that heating system going, your appliances operating, protect your home and your family.

The Generator attaches to the front of the Gravely Tractor

with only four bolts. When power fails, simply attach to your Gravely, plug in to the receptacle, and power once more flows through your home.

The generator is also a portable source of power for electrical hedge- clippers, drills, portable saws. You take power to the job, quickly, easily!

The price is less than your loss if your power goes off and you lose one ordinary freezer of food! And what price can you put on the safety and comfort of your family!

Be prepared to produce your own emergency power with a Gravely Generator attachment!




NOTE: Gravely Power Take-Off and Governor are required. A Double-throw switch is also a necessity. Full instructions are packed with the generator.


For Price, Consult Use-Multiplier Price List. Order from your GRAVELY Representative, or

GRAVELY TRACTORS. INC. DUNBAR, WEST VIRGINIA

JULY 1, 1958