Page 1
Page 2
---
---
Mower
Mower in use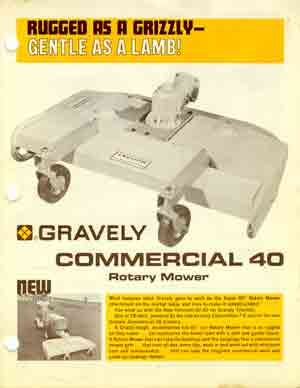 What happens when Gravely goes to work on the finest 40" Rotary Mower attachment on the market today and tries to make it indestructible?

You wind up with the New Commercial 40 for Gravely Tractors. One of 39 tools, powered by the new Gravely Convertible-7.6 and/or the new Gravely Commercial-10 tractors.

A Grizzly-tough, no-nonsense full-40" cut Rotary Mower that is as rugged as they come . . . yet manicures the finest lawn with a deft and gentle touch. A Rotary Mower that can take the beatings and the bangings that a commercial mower gets.. . that runs all day, every day, week in and week out with minimum care and maintenance . . . that can take the toughest commercial work and come up mowing—better!