Page 1
Page 2
---
---
Clutch control
Disengaged
Engaged
---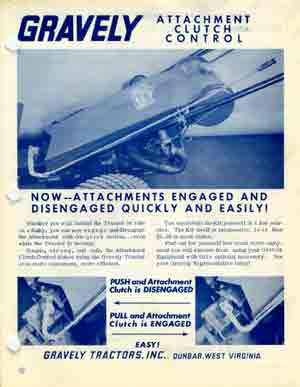 Whether you walk behind the Tractor or ride on a Sulky, you can now engage and disengage the Attachment with one quick motion… even while the Tractor is moving!

Simple, strong, and safe, the Attachment Clutch Control makes using the Gravely Tractor even more convenient, more efficient.

You can install the Kit yourself In a few minutes. The Kit itself is inexpensive, 1ess than $5.00 in most states.

Find out for yourself how much more enjoyment you will receive from using your Gravely Equipment with this optional accessory. See your Gravely Representative today!