Lawn Aerator Flyer
Aerator Photo
Tractor Photo
Specifications
Lawnaire Logo
---
---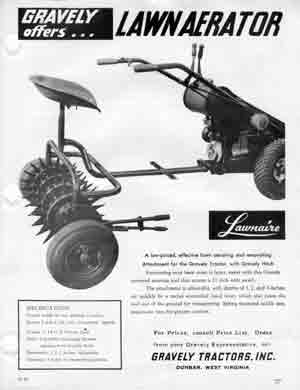 A low-priced, effective lawn aerating and renovating
Attachment for the Gravely Tractor, with Gravely Hitch

Renovating your lawn areas is faster, easier with this Gravely powered aerating tool that aerates a 21 inch wide swath.

The attachment is adjustable, with depths of 1, 2, and 3 inches, set quickly by a rachet controlled hand lever, which also raises the tool Out of the ground for transporting. Spring mounted saddle seat, pneumatic tires for greater comfort.