5 Big Advantages
Rugged Individual
Durability Mow
Toughest Competitor
Westchester Tractor
More for your money
Under the hood
---
5 Big Advantages
Photo
Tractor
Name Address Form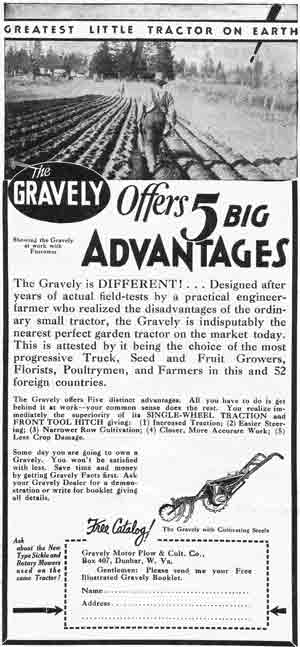 March 3, 1934 Rural New Yorker advertisement
The Gravely is DIFFERENT! . . . Designed after years of actual field-tests by a practical engineer-farmer who realized the disadvantages of the ordinary small tractor, the Gravely is indisputably the nearest perfect garden tractor on the market today. This is attested by it being the choice of the most progressive Truck, Seed and Fruit Growers, Florists, Poultrymen, and Farmers in this and 52 foreign countries.

The Gravely offers Five distinct advantages. All you have to do is get behind it at workó your common sense does the rest. You realize immediately the superiority of its SINGLE- WHEEL TRACTION and FRONT TOOL HITCH giving: (1) Increased Traction; (2) Easier Steering; (3) Narrower Row Cultivation; (4) Closer, More Accurate Work; (5) Less Crop Damage.

Some day you are going to own a Gravely. You won't be satisfied with less. Save time and money by getting Gravely Facts first. Ask your Gravely Dealer for a demonstration or write for booklet giving all details.

Ask about the New Type Sickle and Rotary Mowers used on the same Tractor!